Dear Guest,
We're delighted to be offering this spiritual event with Sadhguru through the internet. To offset the costs of streaming we are requesting a small payment*.
This payment will allow you to watch this event either live or delayed at a later time*.



* Please read the terms & conditions in the FAQ before proceeding.
19th June, 2009
An Evening with the Mystic
Public Talk with Sadhguru
Live 7:30 pm MST • Phoenix, AZ USA
An Introductory talk by Sadhguru with an opening by Cheryl Simone co-author of Midnights with the Mystic.
15th June, 2009
In the Presence of the Master
1 day Sathsang with Sadhguru
Isha Institute of Inner Sciences, USA
We will be streaming the Discourses and Q&A sessions from this unique day long event.
Streaming will be delayed, more details to be announced.
10th June, 2009
Is There A Spirituality We All Can Share?
Live 7:30 pm PDT
Sinai Temple • Los Angeles CA
Sadhguru will be giving a discourse followed by
a discussion with Rabbi David Wolpe.
7th - 8th May, 2009
Mystic's Musings
Mysore, India
2 day public sathsang event with Sadhguru.
18th May, 2009
An Evening with the Mystic
Public Talk with Sadhguru
Royal Lancaster Hotel - London, UK
An Introductory talk by Sadhguru
24th - 26th April, 2009
In the Lap of the Master
3 day Sathsang with Sadhguru (English)
Isha Yoga Center, India
Streaming the Discourses and Q&A sessions from this unique spiritual event.
Mystic Wisdom
The 2 hour video companion to Midnights with the Mystic is now available for sale at the Isha Download Store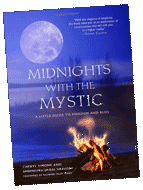 What are the Computer Requirements?
Intel PIII PC with Windows XP or better
Macintosh with OSX

install the Flip4Mac plugin
System restart may be required
Safari works best
Broadband modem with a minimum of 256K download speeds recommended.

The webstream will be minimum approximately 140-170Kbps.

Headphones or powered speakers highly recommended.
In the event of technical difficulties with our Windows server, we may use a Flash based player.
What is the Payment Process?
Payments are made only thru our online gateways

Currently only Visa/Mastercard credit & debit cards are accepted
OVERSEAS REGISTRATIONS

International donations will be made to our Indian Gateway in Indian Rupees (Rs).
A conversion calculator is provided for an up to date conversion.
Donations are non-refundable and not eligible for a tax-deduction outside India.
INDIAN REGISTRATIONS

Due to known technical difficulties with our Indian payment gateway, we are only able to accept Inidan payments through "Google Checkout" in US dollars. We apologize for this and hope to be accepting Rupees again shortly.
Payments are not eligible for tax-deductions.
After completing the payment process, you must click on the link provided in the Google confirmation page to complete the registration process. Failure do do so will not activate your login and you will not have access to the stream.
If we experience technical difficulties during the live webstream, the archives will be available as soon as possible, please check the Chat/Help tab for updated information.
Technical & Registration Support
Live chat will be available approximately 30 minutes prior to the start of the event
Email webteam@ishafoundation.org for feedback /support prior to or after the event
For Time Zone conversion visit this site.
Copyright Policy
Can I download the streams?
No, all Isha streaming videos are meant for online viewing only and not to be downloaded, copied, rebroadcast or shared either online or offline. We will be making the streams available in other formats (DVD's/Download) as soon as possible.

All content is copyright protected under the guidelines of the Isha Foundation website. Please read our copyright policy for more information.